St Paul de Vence
Built on its rocky outcrop and surrounded by its ramparts built on the orders of François Iier, St Paul is certainly one of the most beautiful villages in Provence.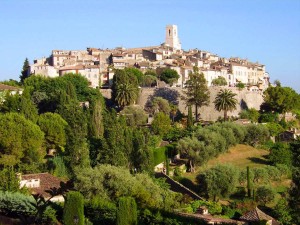 The beauty of the surrounding area, quality of life and exceptional light has inspired numerous famous artists, painters, writers and poets, some of whom took up residence in the village.
You can find signatures from some of these famous artists at the Fondation Maeght which has a large collection of paintings, sculptures, drawings and other graphic works from the XX°century.
Walk around the narrow and so picturesque streets of the village, from the Porte Royale to the Porte Sud via the (pedestrianised) and you will discover magnificent stone façades from the XVI° and XVIII° centuries. Lose yourself in the maze of charming streets, the floral exuberance of the gardens, the little shady squares, ancient fountains, gateways and porches, or wonderful windows and you'll see why St Paul is a favourite subject for photographers.
Visit some of the artists' and craft workshops or museums or go shopping in the provençal boutiques
From the ramparts, wonderful views over the surrounding hills, the Côte d'Azur and of course the sea. No need to repeat that the landscapes are magnificent…